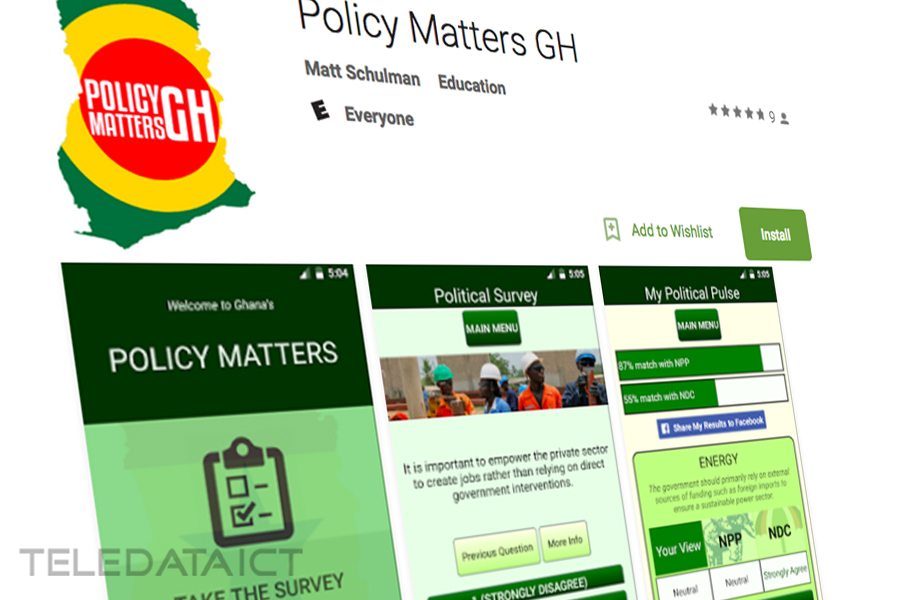 Try Policy Matters GH the local app to help you vote
Still don't know who you are going to vote for this December 7 election? While we have shown you many links to learn more about the parties, Policy Matters GH, a new app , seeks to help you wade through all the noise around the election, and make your informed decision.
Policy Matters GH is a ten question survey. It compares the political views of Ghanaians with those of Ghana's main political parties, The National Democratic Congress (NDC) and the New Patriotic Party (NPP). The app is currently available to Android users, and it is free.
The app creators, two friends from the USA, traveled to Ghana listening to what people had to say about the upcoming election.
They noticed all the talk about the election, so decided to make an app to help further inform people. 
They read through the manifestos of both parties to formulate content for the app. 
"We believe political candidates, officials, representatives and governments SHOULD be evaluated based on the promises that they vow to keep and the policies that they pledge to implement," they say on the download page for their app.
They also believe the objective analysis is more important than party allegiance. Issue-driven politics leads to a healthier democracy and 'We' is stronger than any one individual.
 Download Policy Matters GH here
The Policy Matters GH creators wanted their non-partisan app to help voters define the differences between the two parties.
Over ten questions, Policy Matters GH asks users to rate their level of agreement/disagreement over key policy issues. There are issues on taxes, fuel imports, the teacher trainee allowance, and NHIS funding.
Once results are calculated the app lists external non-partisan sources that link to more information on the different policies.
The app creators say they were limited with their time to include the smaller parties. They plan to redevelop it for future elections to include more parties.