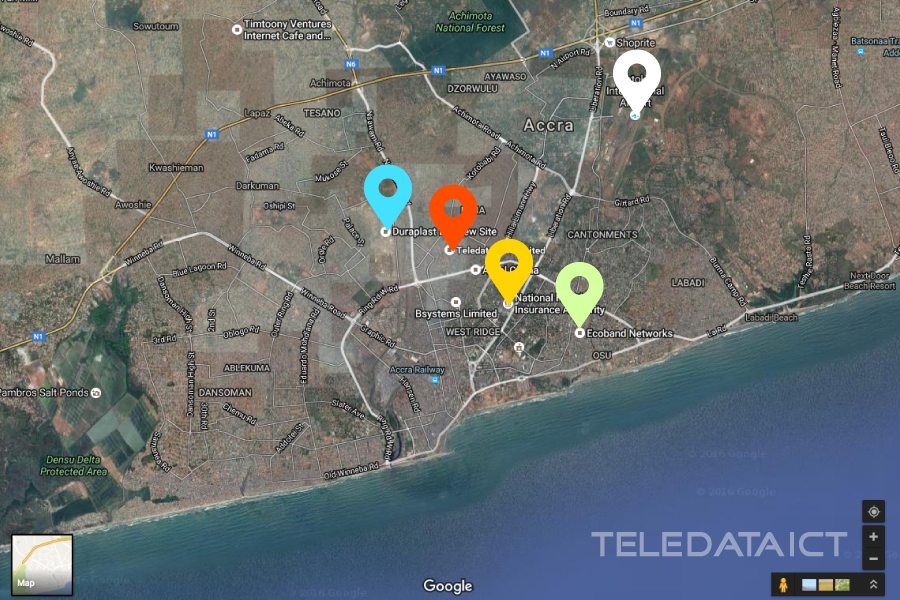 Tips With Teledata: How To Use Google Maps
Google Maps has got to be one of the most useful things on the internet. Released in 2005 Google Maps has grown stronger and stronger.  
Over the past 11 years, it has grown to offer satellite imagery, millions of points of interest, street views, turn-by-turn navigation, traffic conditions and public transportation in some parts of the world.
And while Ghana is nowhere near as mapped out as somewhere like the USA, Google Maps does work here.
According to digitaltrends.com, there are more than one billion people using Google Maps through the world – making it the most popular navigation software in the world.
Here are some tips on your can get the most from Google Maps.
There are many uses for Google Maps – but a good place to start is to enter in your most important addresses – likely home and work.
To do this, open up Google Maps, tap the menu button — represented by the three vertical lines in the top-left corner — and tap Your places. You can do this on a PC or a smartphone.
You'll see entries for Home and Work. Put your addresses in, and it will save them, which will save you time for future navigational needs.
As long as what you are looking for is on Google Maps, you can use it to find your way there. You can also find info like business hours and menus for larger companies in Ghana.
To search for a place, open Google Maps and just type an address or name of a place. Press Enter or click Search.
Search results appear as red and yellow markers on the map. The larger icons show top results.
It is also perfect for measuring the distance between points. Either click on the two areas or search for them in the search box. From there you will be able to see the distance in walking and driving modes.
You can also create your map
Whether you want to share your trip with friends or make a guide for your kids, making your map is easy.  Google offers a comprehensive set of tools for creating your maps, marking routes, points of interest, directions, and more. To get started, make sure you're signed into your Google account and go to My Maps in your browser.
Google offers easy instructions here so you can master making your maps. You can set a location and mark your points of interests and routes, add text to the locations and color code areas and routes. Your maps are automatically saved to your Google Drive. You can also find them in the Google Maps app on your phone via the menu in 'Your Places.'