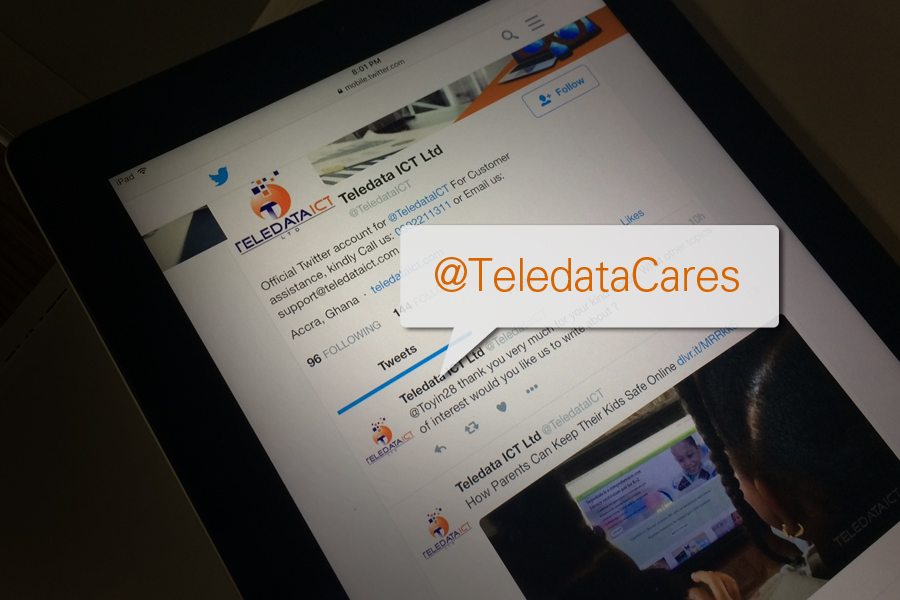 How Teledata Keeps You Connected Through Twitter
At Teledata it's paramount to us to keep our customers happy and updated on developments within our network and about our services. One of the easiest ways to do this is through social media – particularly Twitter. 
While we are on Facebook and Instagram, and keep our Teledata news page regularly updated, we have added another communication service to the mix.
We have started a new Twitter account called  @TeledataCares. Through it, we are posting live updates, and we have linked this with our website.
So whenever we tweet, you will see it on the support page of our website.
Just last week we suffered a very stressful network issue when an underwater cable was damaged. While it was beyond our control, it did affect our customers.
The cable connects our clients in Ghana to the rest of the world. When it was damaged, it caused a total disruption of this service. We had to migrate all our clients on this cable to our other one resulting in a capacity overload, network congestion, and slow browsing.
Keeping our customers up to date on what was happening was of vital importance to us. Our Customer Service Desk was in overdrive ensuring this, but with this new Twitter account, we are adding more to our customer service arsenal.
Through our live Twitter updates, we were able to tell our clients that we restored their Internet service, and the system was up and running. However, you don't need an account yourself to keep updated with us. Just keep an eye on our support page for our updates. If you look at the page, to the right you will see our tweets, embedded as a live feed.
Follow us on Twitter
Those with Twitter should also feel free to follow us for updates on our service.