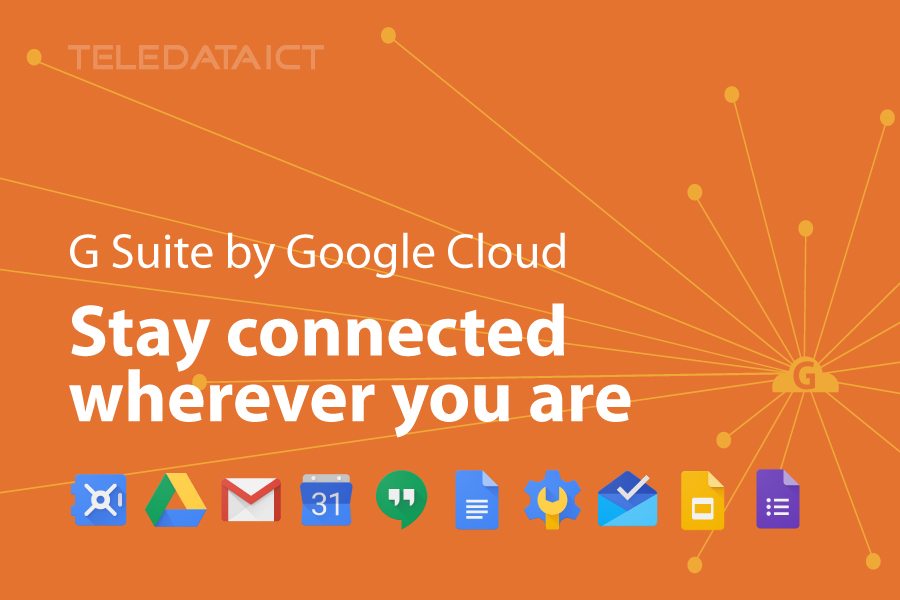 Make your business shine with Google G Suite
Want to add a professional touch to your business communication? Teledata has the answer, with the Google G Suite. This all-in-one professional suite lets you store your data, create with colleagues and communicate with clients.
Streamline your work with a professional email address, online storage, easy-to-use calendar and business promotion tools.
Whether you are at a business meeting in Accra or a conference in Paris, no matter where you are, you can keep your business going and your team connected with access to this full Google Suite.
Powerful tools to do more
There are so many great aspects to Google G Suite, but one of the top ones has got to be the access to Google Hangouts. You can make voice and video calls, or chat via text – connect with anyone – anywhere.
With the Google G Suite, you can talk face-to-face, via text chat or voice calls with built-in screen sharing.
On Google Docs you can create and edit text documents from any smart device. Work with your team on the same document at the same time, all changes are saved automatically or can be restored. You can also track the changes and create notes and comments for each other.The same goes for creating spreadsheets, slides, forms and surveys.
Buy Google G Suite from Teledata
Teledata is proud to sell you this suite which will make your work easier, and more professional, for as little as 26 cedis per user, per month.
We will be highlighting what Google G Suite is and the many apps you get as part of the package. Keep an eye on Teledata to learn more, or contact us!