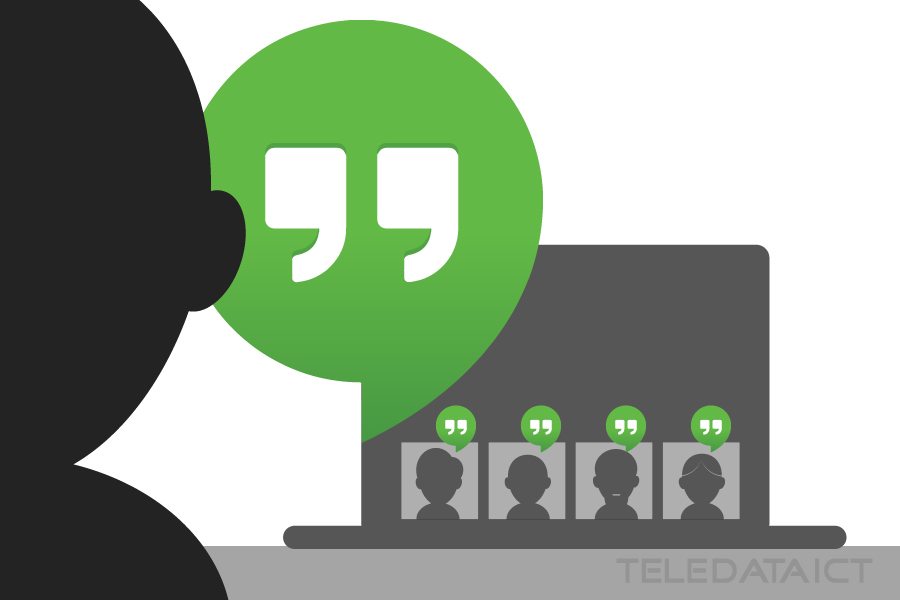 Google G Suite – how to use Google Hangouts
Call, text or video chat with your customers, employees, and colleagues anytime, from anywhere using Google Hangouts from Google G suite.Teledata is proud to offer you the Google G Suite package to make your work easier and communication more professional. This is a suite of apps including email, spreadsheets, and calendar which all run on the cloud, so can be accessed on any of your devices. We are breaking down this suite to let you know what's in it, how it works, and why you need it. This week, we look at the G Suite Google Hangouts.
What is Google Hangouts?
Google Hangouts is the G Suite's text, video calling, and voice service.
It's very easy to use and operates from within your Gmail account. From within Gmail, you can have an actual voice conversation with someone, or even chat face-to-face over video, or just type away in the text box.

What can I do in Google Hangouts?
Instead of sending emails back and forward you can just have a text chat – messages will pop up in real time, and you can make it a group chat if there are some people you need to speak to.
Within these chats you can share photos, videos, locations, and stickers – you can even make your drawings.
You can make video calls too –  have face-to-face video calls in a group with several people. You just need to invite them or accept an invite.
Use either your wifi or cell data to make voice calls to other Google Hangout users, or to actual phone numbers – at a cost.
You can also send text messages on Android devices; you can send texts using Hangouts with your carrier number.
You can use Google Hangouts to communicate with people all over Ghana – or the world. As long as they have a Gmail account and internet connection, they are ready to go. Instead of battling the traffic Accra for a meeting, why not do it online? Save time, fuel and energy. Go to https://hangouts.google.com to see how simple this is to use!
What you need to get started on Hangouts
A Google Account – speak to us at Teledata about getting the professional G Suite.
You then need to give Hangouts access to your microphone and camera.
If you are using  Internet Explorer, Firefox and Safari browsers download and install the latest version of the Hangouts plugin.
For Chrome users, download the Hangouts Chrome extension.  The app is supported on Windows, Chrome OS, Mac, and Linux operating systems.