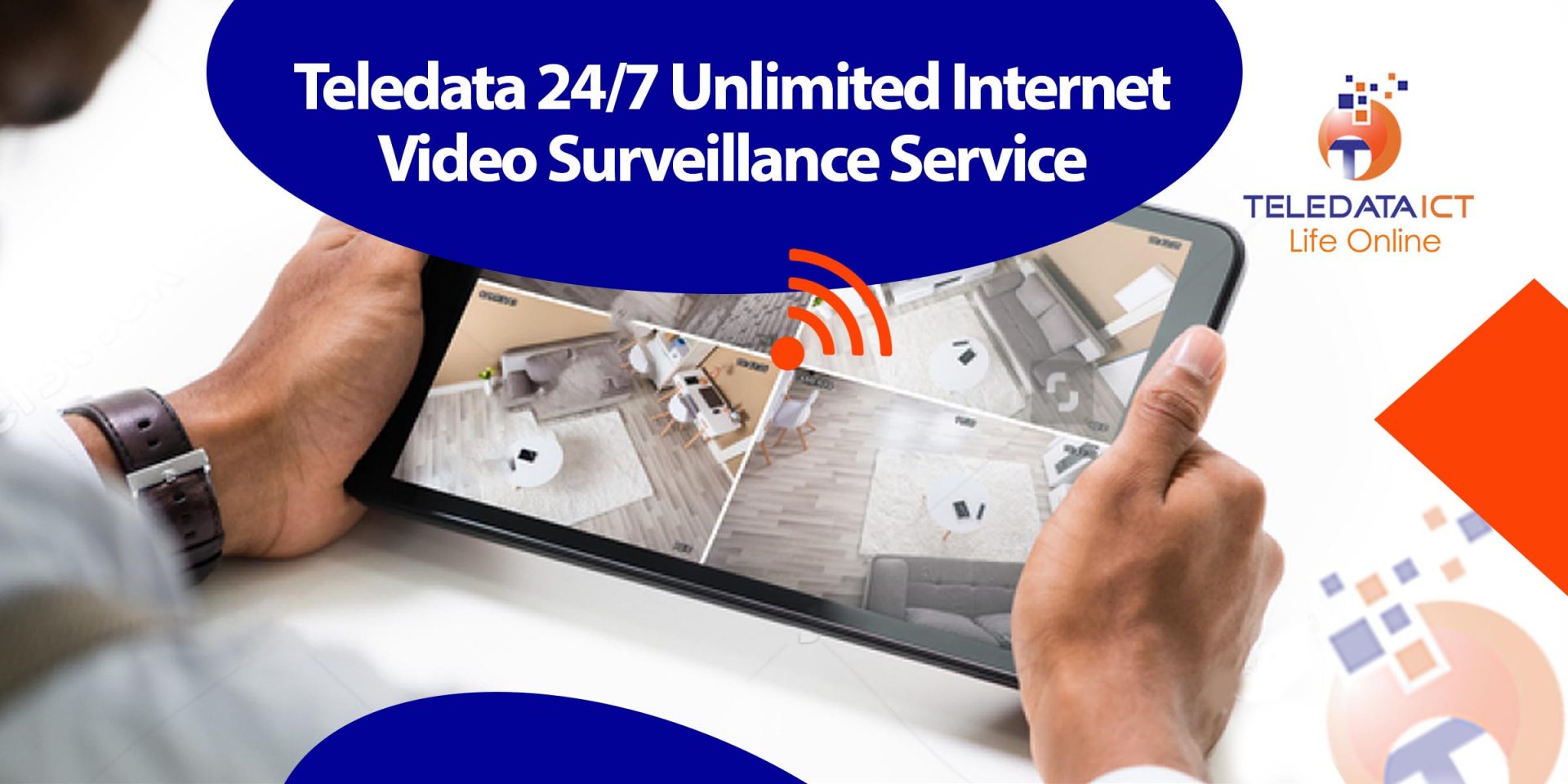 The Benefits of Teledata's 24/7 Internet Video Surveillance Service
The Benefits of Teledata's 24/7 Internet Video Surveillance Service
Are you alarmed? If not, indeed you should be! Security systems have moved on since the good old days of simply ringing a doorbell when an intruder calls. Thanks to Teledata's 24/7 internet video surveillance. and unlimited internet service you can monitor multi-location video surveillance every moment. This means added advantage for businesses and homes video security, which reduces the chance of break-in and associated costs. There is a clear link between a decline in burglaries and an increase in more sophisticated alarm systems. When thinking about upgrading your security systems, our home internet video surveillance systems serve as a great way to monitor what occurs inside your home. 
Interestingly, Teledata internet video surveillance does a lot more than just protecting what's important to you from criminals. Installing a wireless video surveillance system within your home and business can be an excellent start! After all, your home is where you should feel the safest, and no security measure should be overlooked. Here's why subscribing to Teledata unlimited internet and internet video surveillance service is the way to go. 
It's possible to access internet video surveillance systems from anywhere. The ability to view activity even when you are not at your facility offers enormous advantages. It can help to provide proof of poor staff behaviour, for example. You will also have full functionality because the design of these types of systems allows for remote operation. Better access offers authorised users peace of mind. They can feel more confident in their ability to retrieve critical cloud video-based surveillance footage. They'll feel able to respond in a more effective way to any incidents that occur at a given location. That means they can check up on aspects of the business in a way that was impossible without it. It includes internal security standards, team member policies and business practices. It can boost profitability and lead to a more streamlined and efficient operation. 
The Teledata internet video surveillance systems and unlimited internet also mean easier maintenance. It's possible to carry out any necessary troubleshooting when it's needed. Our technical know-how experts help configure your cloud video surveillance program, which makes us offer better customer service and support. We believe that you should not depend on on-site technicians or appointments to deal with any issues. Referring back to the restaurant video security surveillance tapes, for example,  only to find that the relevant data has already been overwritten is frustrating. 
Maybe it is also unnecessary because this type of issue is far less likely to occur. By using the cloud, a security system can store far more data. Some systems can keep critical information and video for many months. That's a fantastic benefit. You'd like to enjoy signing up for Teledata 24/7 internet video surveillance and unlimited internet services. Call us  030 2211 3111/024 243 9494 now.  Our advanced bandwidth offers users a better range of video resolution. Many systems have a vast economy of scale and adaptability. It means being able to hone in on a particular point of video footage to examine the security of your properties. It will often be possible to expand video resolution without changing existing hardware to any great extent. 
Teledata's 24/7 Internet Video Surveillance Resolves Problems
The internet video surveillance systems aim to eradicate problems by automatic off-site data backup. That means even if damage occurs to local recording systems if they fail or malfunction, the cloud will protect the video data so you can still maintain access to it. Our cloud-based system can be a hybrid setup for your on-site storage. This can be helpful if the internet service becomes unstable. When you sign up for the Teledata services, our technical team of experts will monitor your network anytime, being aware of any issues no matter how small. Updates are essential to make sure that your IP video security surveillance system is operating at its best and when it's needed the most. With a cloud system, updates happen seamlessly without you having to do anything. Unlike conventional systems, a cloud solution does not need vast amounts of on-site equipment. It means you can commit to upgrades and scale your system without the need for any extensive installations. 
System costs are always a concern for any business. Any system requires an initial outlay, but Teledata internet cloud-based video surveillance solutions prove cost-effective in the long run. Our Internet video solution reduces upfront expenditures. The set includes labour costs during installation and ongoing service fees. It might even be possible to integrate fire systems with surveillance systems for further savings. When a business has many locations in a non-cloud system, each site is likely to need a server. A cloud system would cut out these hardware-based expenses. It will also reduce the time and labour required to configure the system. Reduced upfront costs and low-level support requirements make cloud-based systems great value. They allow businesses to be up to date without breaking the bank. This is because most of the resources are being deployed away from the actual site and based in the cloud. Because a cloud solution is constantly monitored, it's far more stable than its traditional counterpart. Increased wireless capabilities bring further benefits. Issues such as securing doors, elevators or exits become much simpler to manage. Internet video surveillance offers the possibility of almost unlimited coverage and control. Add to that quicker and less disruptive installations, and it's easy to see why Teledata internet video surveillance cloud-based service is the future.
Call Us Now on 0242439499 / 0302211299 to learn more
---
Fill The Form Below To Find Out More
We hate SPAM and promise to keep your email address safe.