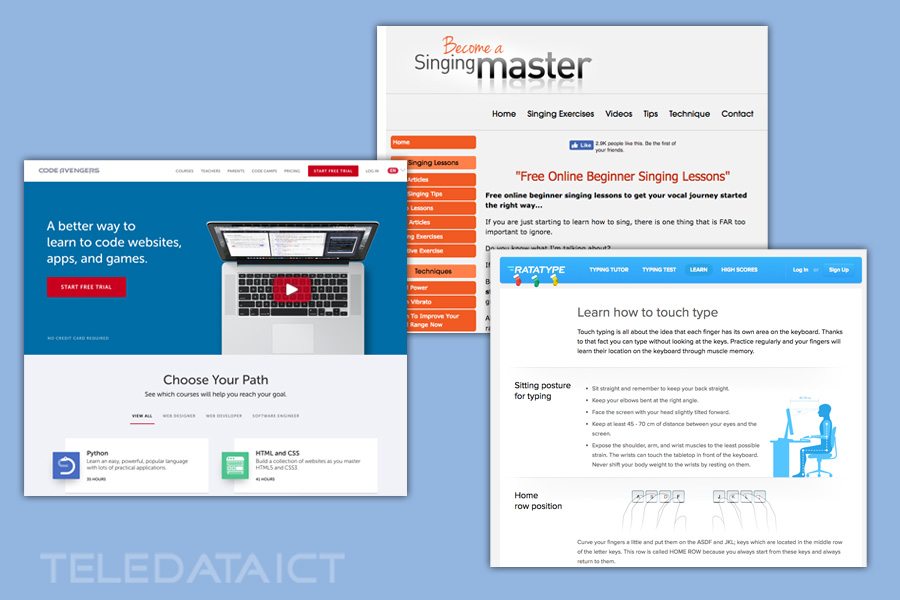 Teledata's favourite links of the week: learn a new skill this year
Welcome to 2017! The time of the year where your Facebook feed will be full of motivational messages; gym memberships increase and people are determined to turn a new leaf for a new year. No matter what your plans are for 2017, something you should add to your list is learning something new. You are never too old, or too busy to learn a new skill. This year, make it a priority. Teledata is here to help you, with our weekly list of links from across the internet to inspire you.
Learn to sing with this free online course
Are you one of those people who lip syncs along at church or when the national anthem plays? Perhaps you do sing along but might get a few glances when people see how out of pitch you are? No matter your age or ability, you can learn a new skill, and why not make that singing? As usual, the internet is a great resource to help you learn a new skill, and there are many websites out there to assist you with your pitch!
Your first stop should be YouTube. There are so many channels that are to help you to sing, try out these: 
https://www.youtube.com/watch?v=jbeXH94qIs0
https://www.youtube.com/watch?v=kchnpUK-gcg
And for websites: 
http://www.freevocalwarmups.com/
http://www.become-a-singing-master.com/free-online-beginner-singing-lessons.html
Learn a new skill with coding 
Coding has become a buzzword in the world, and it is far from being just for computer and web experts. Anyone can code! In Ghana, children are being taught these skills, so nothing is stopping you from learning if you want this capability for 2017.
One of the most favorite sites to learn to code is The Code Academy https://www.codecademy.com/ which has more than 25 million learners across the world.
Get motivated to begin by reading through the site as there are personal stories from people of all ages who learned to code and changed their lives.
There is also Code Avengers http://www.codeavengers.com/ which offers a free trial and has rave reviews.
Learn to touch type this year
Working with computers and technology is becoming more and more routine. If you are one of those people who takes ages to write an email, slowly pushing one letter at a time on your keyboard, then it's time to change. Why not learn how to touch type this year as your 2017 'learn a new skill' goal. Like all good things – the internet is here to help again!
First things, check out how your typing skills rate as they are over on this website. Then, you will be able to see where you need to improve; it's good to have an aim of how many words per minute you will get. This website will let you know your ranking. So, to improve your skills, check out these sites for lessons and practice tests. As usual, practice makes perfect!