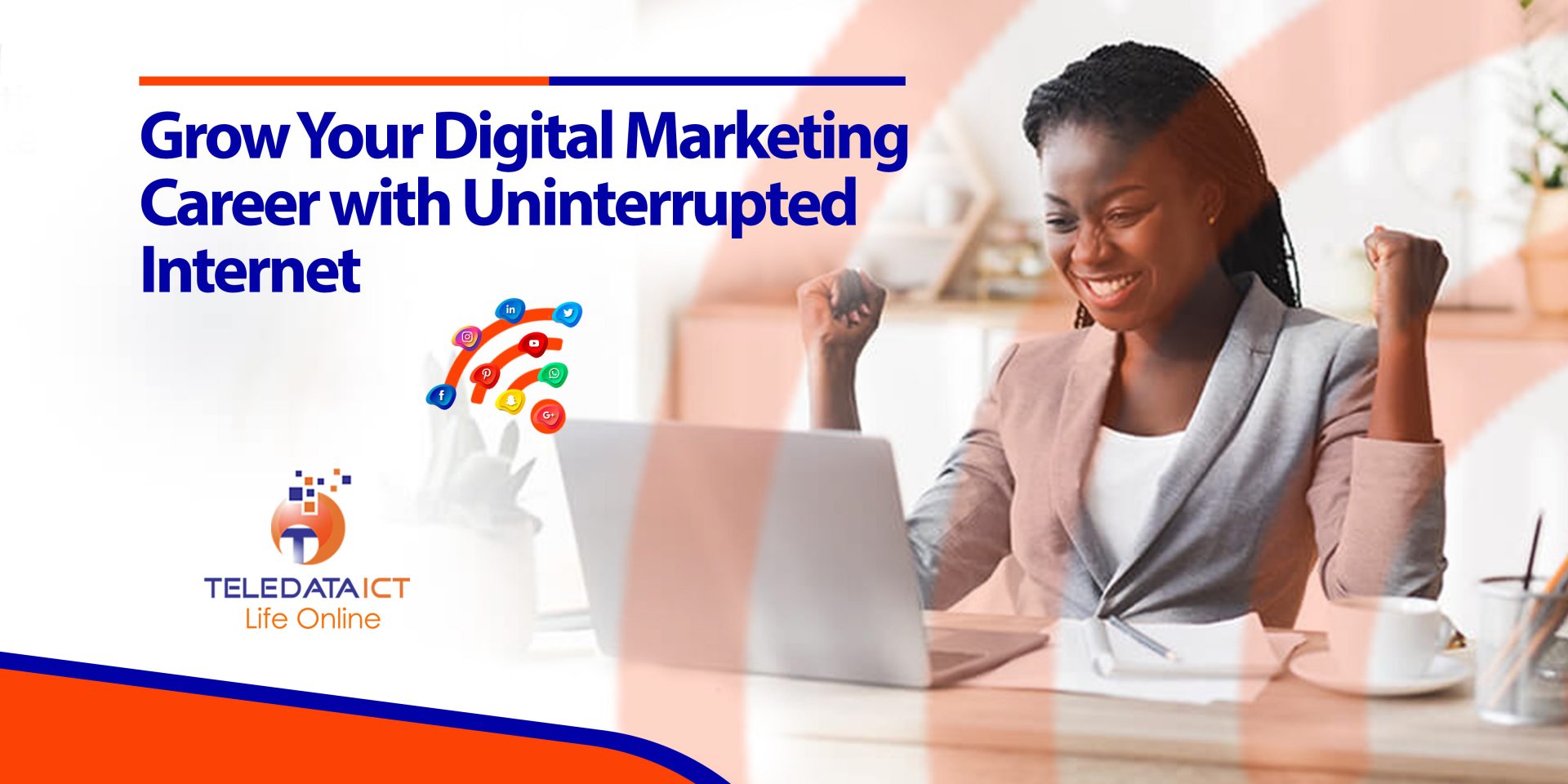 Grow Your Digital Marketing Career with Uninterrupted Internet
Grow Your Digital Marketing Career with Uninterrupted Internet
The digital marketing industry is an exciting, and rewarding field to start and grow a marketing career. Many things are needed to succeed. Firstly, decide whether you'll be a freelancer, establish an agency or join a company. Then decide if you want to master a specialized area like SEO  expertise and get connected to uninterrupted internet access. If you're wanting to be a freelancer then networking with the right people is important. Build your creative and professional social media profile to get more work.
The Marketing sector is broad and it takes time to explore it all. Yet, it will be worth your time and investment. Because the industry is constantly evolving you need to ensure that you embrace industry-related trending social media issues. By upskilling in your data-driven abilities you will be able to solve any evolving online marketing challenge. Traditional marketing, often calendars bound, meaning the traditional method of marketing communication is limited and inflexible in reaching specific target markets. It's also quite difficult to measure the success and failure of traditional marketing activities   Whilst digital marketing can show real-time returns on investment.  
In regard to the new normal socio-economic situation, A digital marketing professional requires a strategic plan to generate quality and qualified sales leads for businesses. According to Hootsuite's  Digital Global Report in January 2021 alone, there were 4.66 billion internet users. This figure represents 53.6% of the total world population with 4.20 billion people as active users on social media. That being said, the significance and growing job opportunity of the digital marketer/ing sector cannot be overlooked.
Brief Digital Marketing Career Market Statistics
Similarly, the number of social media users increased by more than 13 per cent over the past year. That's nearly half a billion new users which indicate a global user total to almost 4.2 billion at the start of 2021. These statistics make the digital marketing industry/job so attractive to any social media enthusiast. With Teledata's dedicated  10Mbps Wireless or 50Mbps Fiber speed package per month. you don't have to worry about the cost of a reliable internet connection. All you need is to sign up NOW!
As a digital marketer, you have to learn skills that go beyond strategizing effective marketing campaigns and being creative to succeed. Because the field, as well as social media algorithms, change over time, digital marketers/digital nomads have to seize a career opportunity which's working from anywhere, anytime and any day using uninterrupted internet access. So, to stand out, you will need to be on top of the game, knowing every-bit of trending information. 
Like any other career field, you have to be determined, welcome new challenges,  consistently learning new things as well as persevering to be the best. Succeeding in digital marketing is no different. It demands that you get connected to Teledata's 24/7 uninterrupted internet access, take courses online from accredited e-learning platforms such as; //learndigital.withgoogle.com/digitalskills/course/digital-marketing,  Digital Marketing Institute, and https://www.simplilearn.com/advanced-digital-marketing-certification-training-course. There are no one-sided approaches to becoming a digital marketing expert. Thus, following the online advice from these topnotch digital marketers https://www.campaignmonitor.com/blog/email-marketing/2019/11/10-digital-marketers-follow/, you will improve your skills on a daily basis. 
Understanding the Fundamentals of Digital Marketing
Digital marketing is the use of uninterrupted internet access, mobile devices, social media, search engines, and other channels to reach consumers. Some marketing experts consider digital marketing to be an entirely new endeavour that requires a new way of approaching customers and understanding how they behave compared to traditional marketing. 
Digital marketing strategies have a wide-ranging scope and include attracting customers via email newsletters distribution, content marketing, search engine optimization, social media marketing, and much more. What makes digital marketing one of the most effective sales lead generation is its ability to reach a specific target segment of customers, be interactive, and get real-time results as well as returns on investment. 
In the parlance of digital marketing, advertisers are commonly referred to as sources, while an audience of the targeted ads is commonly called followers. Sources frequently target highly specific, well-defined followers. For example, after Teledata expands and strengthens its network coverage in Accra and its environs. The company needed to communicate with the followers (customers) via social media marketing, SMS marketing and email newsletter distribution and content marketing. All these digital strategies helped to get the message out to specific and targeted people. Which is why digital marketing gives returns on investment in real-time.
Call Us Now on 0242439499 or 0302211299 to learn more
---
Fill The Form Below To Find Out More
We hate SPAM and promise to keep your email address safe.