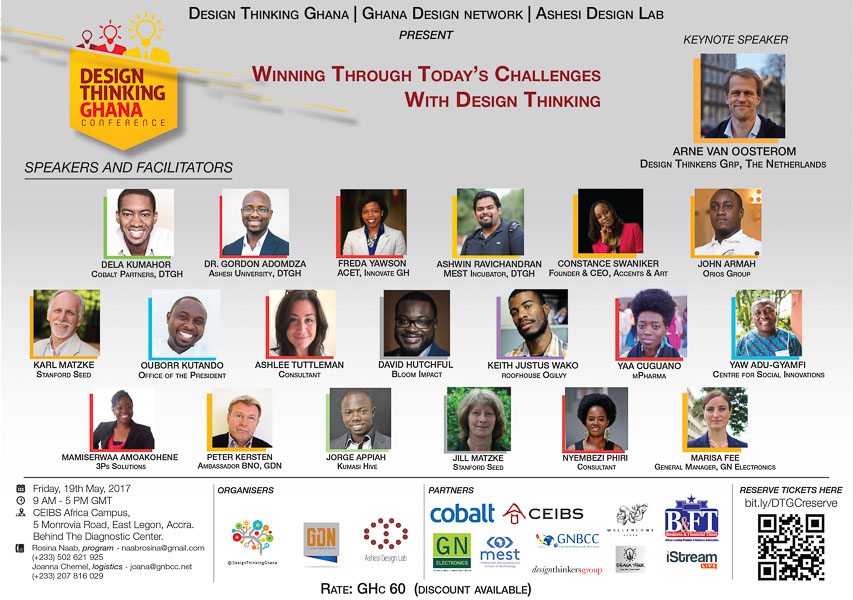 Design Thinking Ghana Conference
Design Thinking Ghana Conference is the event you should look out for on Friday, 19th May 2017 at the CEIBS Africa Campus. The event themed "Applying Design Thinking To Today's Challenges" is scheduled to commence at 9 am and end at 5 pm.
Design Thinking Ghana Conference
The aim of this conference is to discover the design thinking work in the Ghanaian community by focusing on how the practice is being used to solve challenges in various fields, and also to understand how others were using it to enrich their business value propositions.
To achieve these objectives and outcomes, the organizers of this conference has assembled world-class facilitators with global experience and exposure in the Design Thinking field. The keynote speaker for this year's event is Arne Van Oosterom, founder and senior partner of the Design Thinkers Academy in the Netherlands.
There will also be workshops in a variety of areas such as new product ideation and prototyping, user interaction design, business model development, and entrepreneurship.
Teledata provides fiber Internet service and live streaming in partnership with iStream.live
The event promises participants of gaining an understanding of the design thinking process, and to inspire them to adopt the process more proudly in their work. Participants will also get to learn from individuals and representatives of organizations that employ design thinking process in their projects.
Visit egotickets.com to register and participate in this knowledge filled event. You can also visit Design Thinking Ghana website for detailed information about the conference.