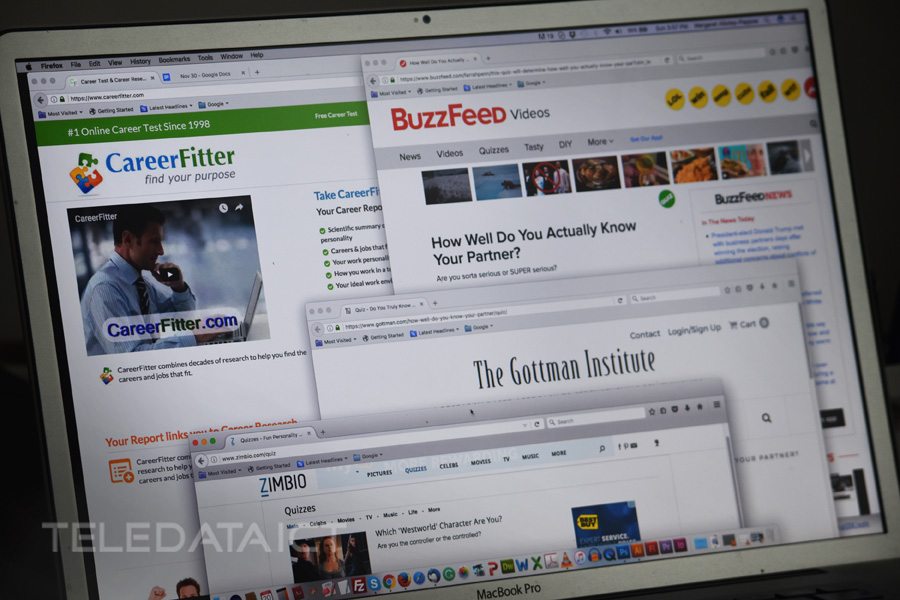 Teledata's Favourite Links of the Week: Online Personality Quizzes
One of the best ways to kill time on the internet is by delving deep into the world of online personality quizzes.
Whether they are purely for fun or something a bit more scientific, you can find more out about yourself, and even get your significant other involved to see how compatible you are!
Here are some of our top links for taking personality tests online.
Need a new career?
Feel like you are in the wrong job, or about to start one and not sure it's for you?
Many online personality tests are a good way to figure out if you need to switch careers, or to help guide you into one.
In 60 questions this free career test uncovers the accurate summary of your work personality, and will also give you a detailed full version option with lists of careers and jobs that fit you best, though there is a cost for the full version. 
How suited are you and your partner?
Be careful with these tests. They are for you and your partner to see how compatible you are. Interpret the results how you wish!
Try out this one to see how serious you are – it calculates how well you know your partner. 
Not convinced on the results? Then try this one, it's similar. Why not both take this quiz? It's a yes/no test and asks you things like 'My partner listens respectfully, even when we disagree.' Maybe it will inspire a better relationship if the results aren't great!
Online personality quizzes just for wasting time
Those quizzes that pop up on Facebook are hard to resist. All of a sudden you are in a black hole of personality quizzes trying to figure out which color you are or which type of drink signifies your life. Sometimes it's okay just to waste your time on these silly quizzes. Pop over here to do just that. There're some funny ones like Can We Guess If You're an Only Child?