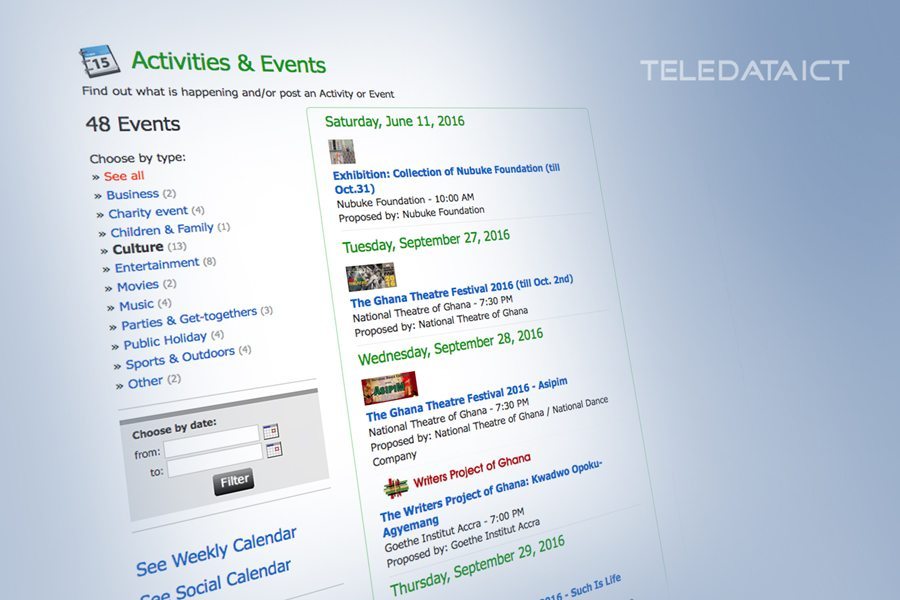 How to find events in Ghana
How to find events in Ghana. Unsure what to do, or where to go? There are events all over Ghana all the time, but finding out about them can be difficult. Gone are the days we would rely on the newspaper to keep us updated on concerts, festivals or conferences going on. Now, we can just go online and plan our activities. Teledata has compiled the below handy links to help you find something interesting to do.
Facebook Events
Advertising events on Facebook are becoming more and more popular. Sometimes you will only hear of an event if someone invites you to it on Facebook, but with this link, you can really be in the know!
How to find events in Ghana. From restaurant openings to church events to concerts, if an event is listed on Facebook, and you have put your location in then Facebook will tell you the event in your area. Very handy! When you click on the event you can see who else is going, and if you say you are interested or going to it, Facebook reminds you of this as well, leading up to the event.
Accra Expat Website
This website was set up for expats living in Accra, it is full of advice and useful links on life in the capital but its content is great for anyone. The event calendar on the website is frequently updated and lists contact information and advertising posters when possible. You can look for events through the categories, like business, culture or entertainment or you can scroll through to plan your day! There are also weekly and social calendars too.
Using some mobile phone applications
An app launched earlier in 2016 brings you local events to "show you your city". So far it's only for Android phones, but the app, called Purlieu lets you browse events in your area.
How to find events in Ghana. Its description on the Google Play stall says you can use the app to browse your personalized feed of events based on your passions, interests and your social connections. You can also see events your friends are attending and follow promoters to get updates on their activities.
How to find events in Ghana. You can add events you want to attend to your calendar to get reminded later.
It still seems to be in its early days, but has received an average of 4.5 stars on Google Play reviews with some users calling it a 'game changer'. You can download it here.